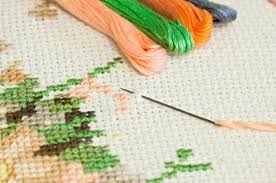 Work to improve your fine motor skills and challenge your brain in new ways through various forms of needlework.  Begin with cross stitch, and move on from there.
Work fine motor skills in either right, left, or both hands
Feel your brain start to process in new ways
Create individual works of art
Beginners are welcome!  Basic materials and supplies will be provided.  Registration is required.
Date and Time: 
Tuesday, May 21st
10:00 a.m. to 11:00 a.m.
Location:
Brain Injury Alliance of Colorado
1325 S. Colorado Blvd., B300
Denver CO 80222
All adult participants are welcome.  Reasonable accommodations and language assistance services will be provided upon request.