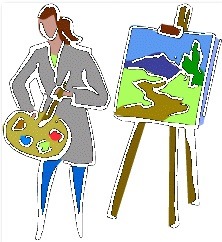 Art Class
Art encourages the development and healing of physical coordination, personal expression and mental outlook, and provide survivors with a social space in which to interact.
Modern medicine rehabs the body on a functional level but expressive arts, including visual arts, creative writing, music, and drama, are rehab for the soul. And the brain. Since the art process engages the entire brain, expressive arts assists in building new neural connections through a process called neuroplasticity. The benefits of art has been researched and this modality is often included as a therapeutic tool in rehabilitative programs across the country.
Art also strengthens self-esteem, provides the opportunity for positive feedback, and allows a person to re-experience themselves as a unique individual. It enables survivors to express their feelings about serious emotional and physical trauma they have experienced, including the changes in their lives resulting from injury.
General Supply List for all Sessions:
140 # watercolor paper
Brushes:  6 &12 round brushes
1in, 1/2in and 1/in flat brushes
Small tray for watercolor paints (Palette o a Styrofoam plate will work)
 1" roll of blue painters tape or masking tape
Container for water
Paper towels
Watercolor paints (variety of colors: red, blue, yellow, black, brown, etc..)
Time: 
2nd and 4th Tuesday of each month
9:30 a.m. to 11:30 a.m.
Location:
Brain Injury Alliance of Colorado
1325 S. Colorado Blvd., B300
Denver CO 80222
or  Virtually with Zoom app
Who:
Adults age 18 and older
Cost:
There is no cost for this class but registration is required as class size is limited