Brain Injury Alliance of Colorado
1325 S. Colorado Blvd, Bldg B, Ste 300
Denver, CO 80222
Phone: 303.355.9969
Toll Free: 1.800.955.2443
Fax: 303.355.9968
If you are new to BIAC or wanting to refer an individual to us, please use this form and a staff member will reach out. If you are an existing client and would like to meet with a staff member, please contact us to ensure they're available by scheduling an appointment in advance.
Office Hours: 8:30am – 4:00pm, Monday – Friday*
*During the month of December, the office is closed on Fridays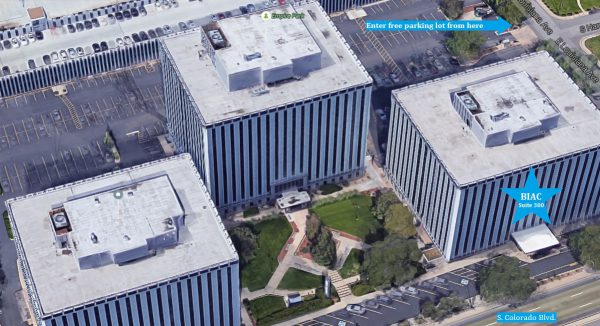 Parking is free for the first 2 hours in the lot directly behind the Empire Park complex. After 2 hours, BIAC can validate your ticket free of charge.
To enter the parking lot, turn west from Colorado Blvd onto Louisiana Avenue, make your first left, and take a ticket at the booth.
The nearest bus stop is S. Colorado Blvd & Louisiana Ave station, which is on the #40 route.