Injury to the brain can cause upsetting changes to your mental health. You may find that new mental health concerns arise or preexisting mental illness worsens after injury, such as:
Anxiety
Depression
Mood Swings
Anger
Post-traumatic Stress Disorder (PTSD)
Changes in Personality, & More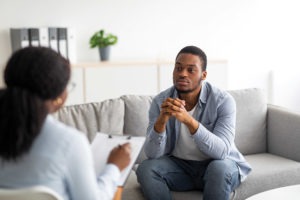 Here to Help
It's very common to experience emotional struggle after a brain injury, and with the right help, you can feel better. BIAC understands how difficult it can be to find behavioral and mental health counseling from professionals who understand the relationship between mental health and brain injury.
We are here to help you understand the challenges you encounter as a person with a brain injury and we can work together to create your best quality of life.
What We Offer
Therapists who are specialized in brain injury and various treatment modalities to help meet our clients particular needs and goals that are unique to individuals with a brain injury.
Counseling services to caregivers and family members of survivors.
In-person or telehealth sessions are available.
Schedule a Consultation
Getting the right kind of support can help you achieve your best quality of life. We are here for you.
Phone: 303-900-5232 
Email: counseling@biacolorado.org
Medicare, Medicaid, & Private Pay accepted.