Below is a list of research studies in the brain injury field.  Please contact the coordinators of each study with any questions.  Another way to find research studies is to visit http://clinicialtrials.gov and search by location or criteria (ex: "mild TBI").
If they are no longer recruiting individuals, please let us know and we will remove the flyer.

MINDSOURCE the Brain Injury Network is currently looking for participants for a Needs Assessment. Click here for details and to show interest.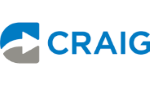 The Craig Hospital Research Department has a number of studies actively recruiting members of the community right now. Click here to visit their website with a full list.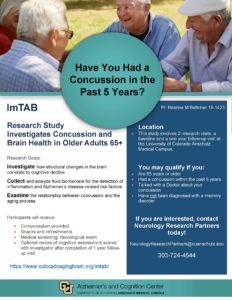 Concussion and Brain Health Study
University of Colorado, Anschutz Medical Campus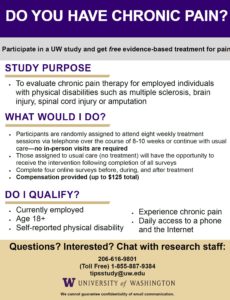 University of Washington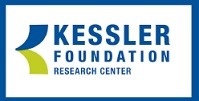 Kessler Foundation Youth Research Study
Kessler Foundation is looking for participants ages 9-17 to participate in an emotional processing study.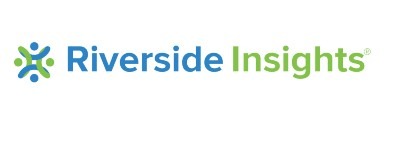 Riverside Insights is recruiting persons from ages 3 through 80+ to participate in an assessment research study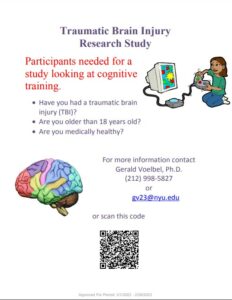 New York University 
New Your University is recruiting a study called "Verbal Working Memory and Attention Remediation for Adults with Traumatic Brain Injury"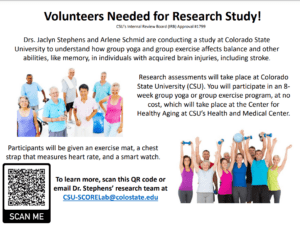 Colorado State University ABI Research Study
CSU is looking for participants to see how group yoga and exercise affect balance in ABI participants. 

Rocky Mountain University of Health Professions is looking for participants for a study about mindfulness and concussions. See details here.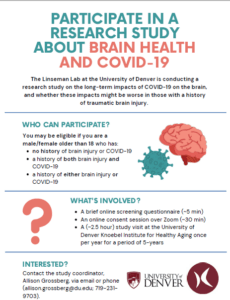 The University of Denver is conducting research on COVID and brain injury. See details here.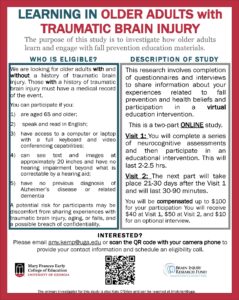 The CogCom Rehab Lab at the University of Georgia is inviting you to participate in an online study that is studying how older adults learn and use health education materials. Learn more here.